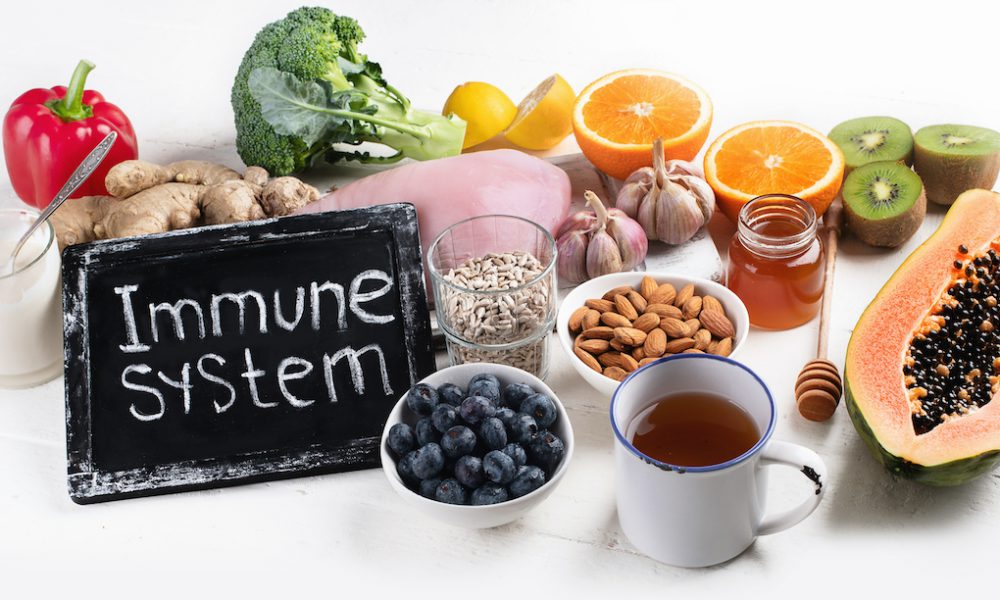 A healthy diet, key nutritional supplements, restful sleep, and regular exercise are the cornerstones of a strong immune system–one that is primed and ready for action against viruses and other infections.
With all the health information on the Internet, it's easy to become confused about what to eat and what vitamins to take to support a healthy body, and most importantly a strong immune system. In this post, we'll take a closer look at what the immune system does and learn about ways to keep it strong and healthy.

What does the immune system do, exactly?
Just in case you're confused about how the immune system works:
When your body comes across a bacteria or virus, a strong and healthy immune system immediately goes into action like an army marching into battle. There are all kinds of cells, glands, organ systems, hormones, proteins, and other biological "soldiers" involved in this immune response. It's quite an operation! Once the immune system launches its "attack" on the virus, the body "remembers" that particular virus and is able to respond (mount its defenses) more quickly the next time that virus enters the body.
How do I keep my immune system strong and healthy?
Eat a Healthy Diet
You've heard it a million times, right?
Look at it this way: The body is like a walking science lab—the chemicals that go into it play a significant role in determining the kinds of responses and reactions that take place within it. When it comes to your diet—the nutrients in foods are the chemicals that keep you healthy. That's hundreds of thousands of processes that your body does to maintain physical health and emotional wellbeing. If you're lacking key nutrients, that creates a cascade of changes in the body's many systems. The result: poor health.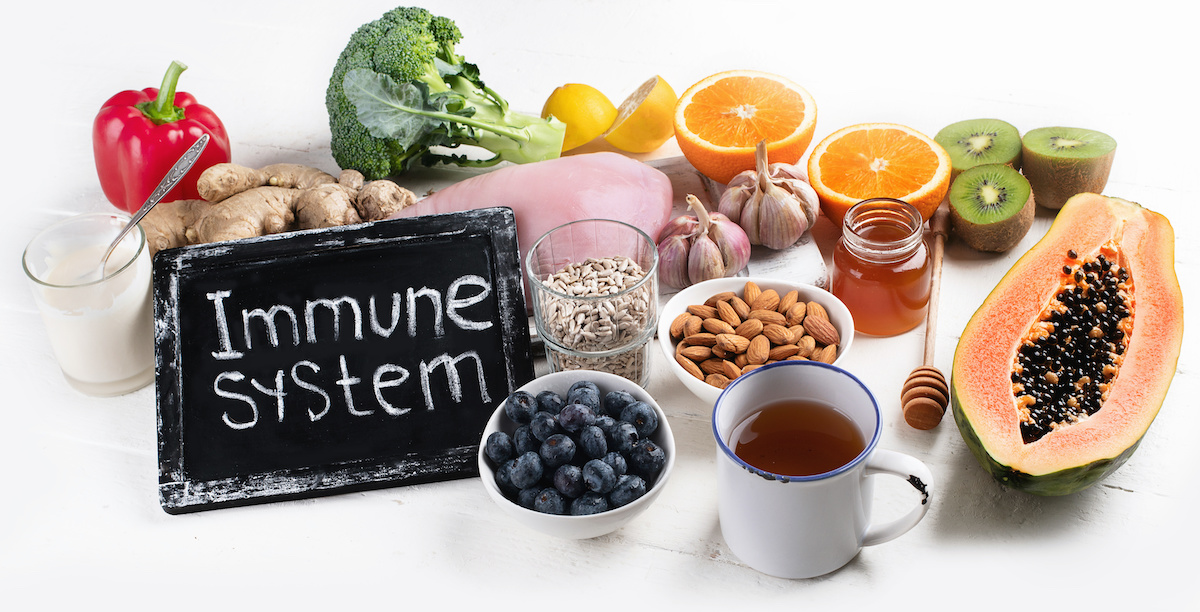 What does a diet that supports strong immunity include? It's easier than you think.
1. Include a wide variety of nutrients in your daily menu. Eat a rainbow of naturally colorful foods. Include more fish, fruits, legumes, and vegetables. Choose lean cuts of poultry. You especially want to include foods that are high in these nutrients:
Vitamin C (citrus fruits, bell peppers, broccoli, dark leafy greens)
Vitamin A (yams, carrots, mangos, chicken and beef liver)
Vitamin D (mushrooms, mackerel, sardines)
Omega 3 (flaxseed oil, cod, haddock, mackerel, sardines, hemp seed oil)
2. Add more "cruciferous" vegetables to your snacks and meals. Foods like broccoli, cabbage, cauliflower, and kale are high in many nutrients associated with strong immunity.
3. Increse intake of H20. Keeping your body hydrated with water supports the cellular processes involved with building, maintaining, and repairing cells and tissues, organs (like the heart, intestines, and muscles) and all the body systems and involved in having good health. Decrease or elimate beverages with artificial sweetners and added sugar.
4. Ease-up on alcohol consumption. Research evidence indicates alcohol decreases the efficiency of function in immune system pathways.

Nutritional Supplements that Support Healthy Immunity
You may want to take a nutritional supplement to support immunity. This is especially helpful if you can't eat certain foods due to allergy or a health condition, or if you have been told you have a deficiency.
Vitamin and mineral supplements that support healthy immunity include, but are not limited to:
Vitamin and mineral supplements that support healthy immunity include, but are not limited to the following:
Vitamin D works to decrease inflammation and support immune function. Many recent studies have shown Vitamin D offers protective benefits against the virus that causes COVID-19. This is because a large part of the population has sub-optimal levels of Vitamin D, which contributes to fatigue, slower wound healing, decreased immunity, hair loss and many other health concerns. While the research is not conclusive, it is very promising. It has been widely recommended that most people take a Vitamin D supplement during the pandemic
Vitamin C (an antioxidant) plays a role in protecting the integrity of cells and supporting boost immune function. Also, there has been some research indicating that consistent intake of Vitamin C can shorten the duration of viral symptoms.
Zinc is essential for immune function and can be helpful with initial symptoms of illness and may shorten the duration of symptoms of illness.
Vitamin A helps the immune system by maintaining the integrity of the mucus membranes in addition to being part of the adaptive (long term) immune response.
Omega 3 fatty acids decrease inflammation in the body. Inflammation has been shown to be a major root cause of the development and severity of several chronic illnesses. Chronic Inflammation creates a cascade of problems in cells and tissues. Keeping inflammation at bay is an essential way to support a healthy immune system.
Probiotics protect the friendly bacteria (gut flora) that live in the gastrointestinal tract and are associated with immunity. Since the gut has an instrumental role in immunity, it's important to keep unfriendly gut bacteria at bay, while boosting the "friendly flora."
There also are many immunity formulas that contain various nutrients that work synergistically to support the immune system. Call or stop by Palm Harbor Pharmacy to learn more about these products.
How much of a nutritional supplement do I need?
The amount of a nutritional supplement that a person needs depends on many factors such as age, stress level, smoker status, illness history, current medications, and dietary habits.
The amount of a supplement that is needed also differs for children and adults, pregnant women and nursing mothers, and women who are approaching menopause.
Some nutritional supplements interact with prescription medications. It is always a good idea to consult with a physician who has expertise in using supplements therapeutically and who can personalize treatment.
When you are ready to buy your nutritional supplements, speak to the friendly pharmacists at Palm Harbor Pharmacy to help you find and choose the right product.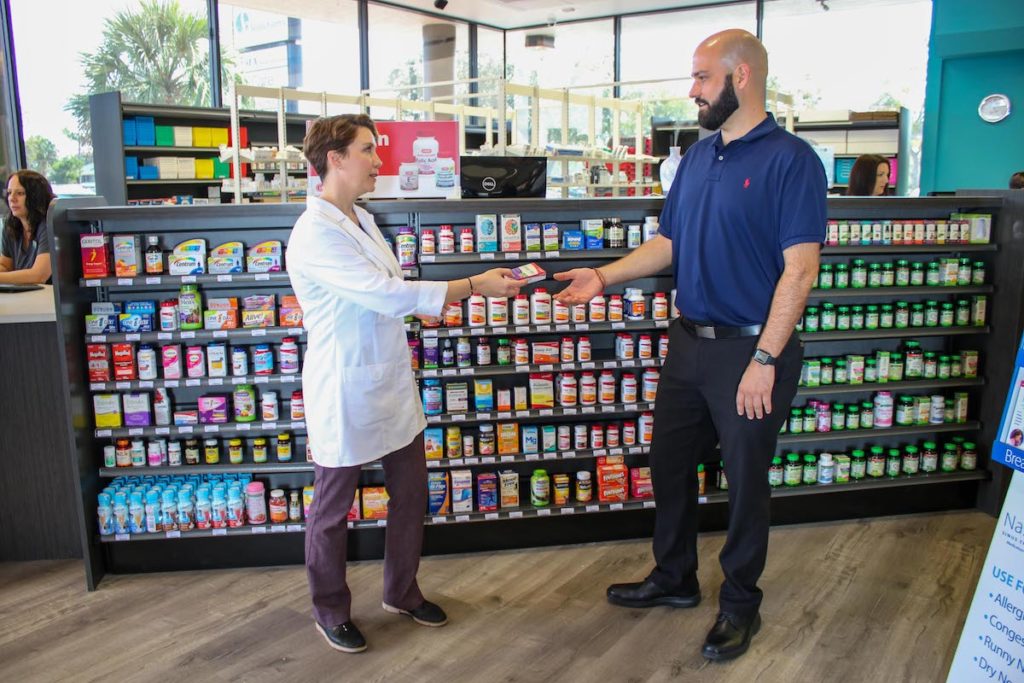 A healthy diet and nutritional supplements aren't all that the immune system needs. Getting restful sleep each night and staying physically fit are also crucial to strengthening the immune system. In our next blog post, we'll take a look at how sleep and exercise have an effect on immunity and provide resources to continue to support a strong immune system.
What else can I do to support my immune system?
In addition to a healthy diet and nutritional supplements, getting restful sleep each night and staying physically fit are also crucial to strengthening the immune system.
Sleep is extremely important to immunity. When you sleep, the body goes into recovery and repair mode. Hormones,along with nutrients from the food you've eaten, are mobilized to restore what has been depleted from the routine of daily living. Where there is damage, extra attention is placed upon rebuilding. Keeping a sleep routine is one of the easiest ways to support the immune system. How do you do it?
Aim for 7-8 hours each night.
Avoid using digital devices in the bedroom and within 2 hours of sleep
Try not to eat heavy meals after 8PM.
Steer clear of caffeinated beverages late in the day.
Wake up at nearly the same time each day
Exercise is one of the most effective way to get more restful sleep. Exercising during the day is better than exercising late at night. You don't want to stimulate the brain and body with intense exercise, but an evening walk under the stars could be a great way to prepare for a good night's sleep.
Also, to help you fall asleep more easily, keep the lights dim in the evening, keep the house temperature cool rather than hot (enjoy your blankets!), take a warm bath, use a sound machine (white noise, ocean waves), try a sleep mask, and use room darkening blinds or curtains if you are a shift worker.
If you think you may need a sleep supplement, ask a Palm Harbor pharmacist for help.
Resources
Murray, M.T. & Joseph Pizzorno, The Encyclopedia of Natural Medicine (4rd Ed.) 2012. Atria/ Simon & Schuster, Inc: NY, NY.
Zinc & Fighting the Common Cold: Differences Found in Adults and Children
Carr, A.C. & Maggini, S. "Vitamin C and Immune Function," Nutrients (3 Nov 2017) 9: 1211; doi:10.3390/.
"The Link Between Vitamin C and Optimal Immunity." Life Extension (Nov 2015).
Alcohol Research Current Review: Alcohol and the Immune System
"Probiotics May Be Useful Against Colds, Flu-Like Symptoms in Children" Medscape
Kiani, L., Cambridge Scientific Abstracts- Discovery Guide. Bugs in our Gut: How Probiotics Keep Us Healthy. (2006).
"Vitamin D and COVID-19: What's the Controversy?" The Lancet