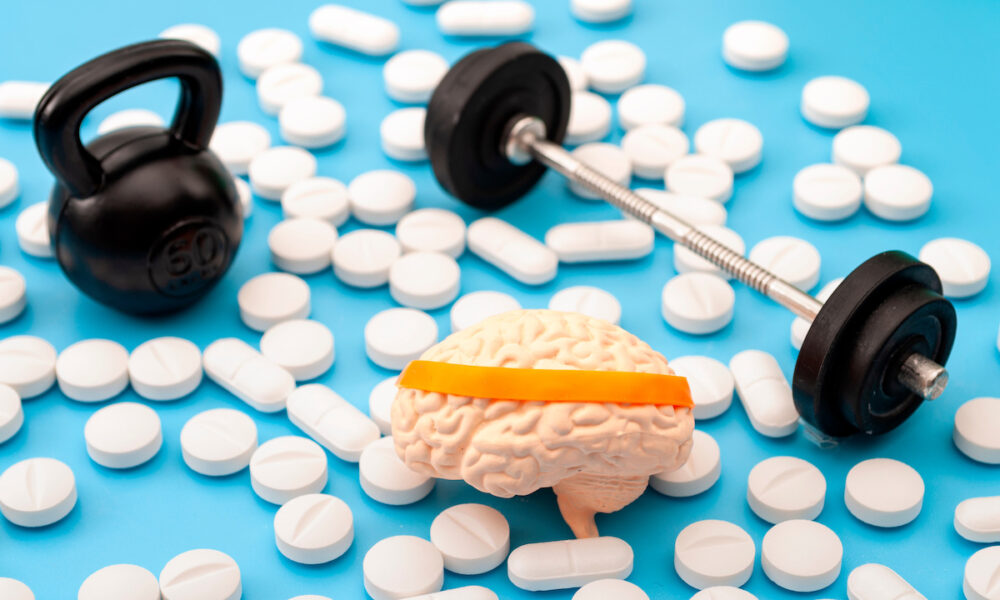 When you want strong arms you lift weights. When you want strong abs, you do crunches. But what about brain exercises? Brain exercise is a hot topic these days. Staying mentally fit is good for you and keeping your brain active will help keep you sharp long into your golden years.
As we age our cognitive abilities start to decline. These changes are a normal part of the aging process, and not everyone experiences them at the same rate or in the same way. By taking small steps now, you can reduce your risk of developing Alzheimer's disease and other forms of dementia later in life.
Sounds great, but what do you need to do? This article will discuss easy brain exercises, and ways to improve your brain health with simple tricks and tips that will keep your brain sharp forever!
Why Do We Need Brain Exercises?
Your brain is a powerful and complex organ. It's responsible for everything from controlling your body's basic functions to making complex decisions like what to eat for lunch or what career path to pursue. It affects everything you do!
That being said, your brain is incredibly delicate and susceptible to damage and deterioration as you get older. This damage can be caused by a wide range of things, including stress, lack of sleep, and exposure to toxins. Gradually, you will start to experience symptoms of cognitive decline such as:
Forgetting appointments
Losing your train of thought
Difficulty following the story in books and movies
Feeling overwhelmed by decision making
Difficulty following instructions
Getting lost in familiar places
Becoming more impulsive or irritable
Your senior years don't need to mean confusion and forgetfulness. However, you can't wait until you start exhibiting these symptoms to begin focusing on your brain fitness.
Start Your Brain Exercises
Brain exercises can be as easy as reading a book, watching a show, or participating in an interesting conversation. Different types of activities such as creative or musical pursuits are also great. Even if you don't have a lot of extra time to spend on hobbies, you can squeeze in some brain-boosting activities whenever you have a few spare minutes. Try some brain exercises such as:
Reading – It doesn't matter what kind of books or magazines you read, find something that interests you and aim to read about 30 minutes per day.
Playing games – Adults who regularly play games such as bingo, chess, or even video games show a decrease in cognitive decline.
Doing puzzles – Physical jigsaw puzzles, word puzzles or crossword puzzles improve your memory and help prevent cognitive decline as you age.
Visiting new places – Traveling to new and exciting environments is excellent for your brain. You don't have to go far. For example, day trips to new cities or visiting a new museum will work just fine.
If you want to stay sharp as you age, check out these 5 easy ways to improve your brain fitness. Don't wait until you are older to integrate these brain exercises into your life.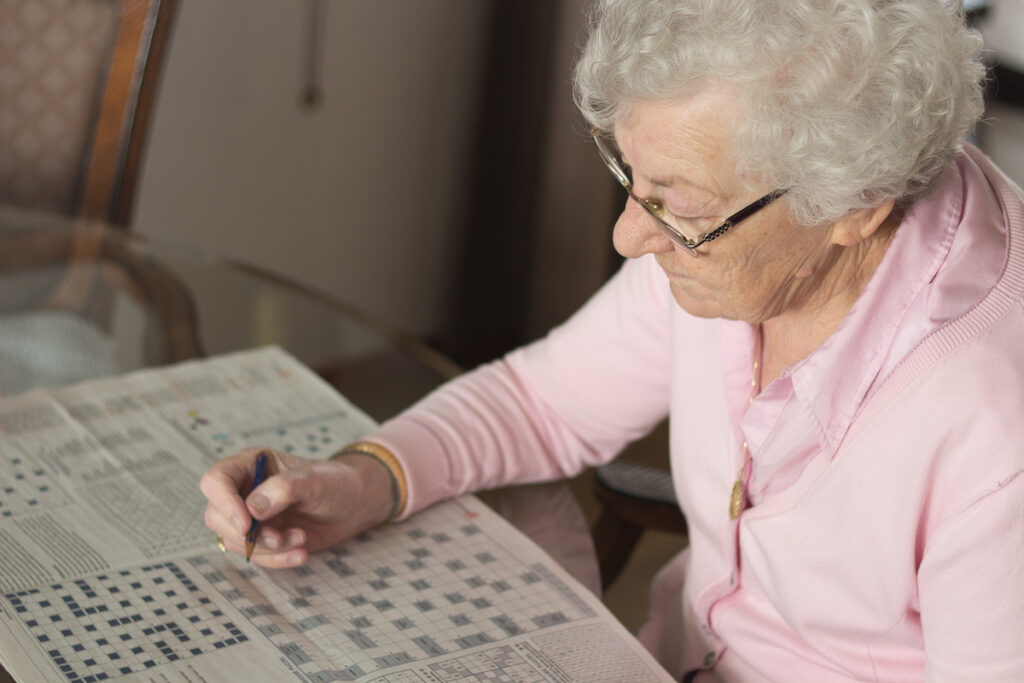 1. Learn Something New
When we were children it was easy to learn new things because just about everything we discovered was new and exciting. As we get older and we know enough to function effectively in our lives we stop pushing ourselves to learn more.
However, learning something new is vital to keeping your mind sharp. It doesn't have to be anything complex. Any new information triggers a spark in your brain receptors and strengthens your memory and recall abilities.
How can you learn new information as an adult?
Read something different– That mystery novel on your nightstand does help your brain, but try picking up a science magazine or a historical biography to exercise your brain.
Take a class– Sign up for a cooking class at the rec center or learn a foreign language. If you really want to stretch your brain, look into night classes at a nearby community college. You might even enjoy it.
Talk to someone younger– No matter how old you are, talking to someone younger will undoubtedly introduce you to things you've never even heard of before. Listen to your nephew tell you all about his favorite current musician or have your granddaughter show you how the newest social media site works. You'll learn something new and stay up on the latest trends.
2. Stay Physically Active
Exercising your body is crucial for maintaining optimal health and well-being as you grow older, but did you know that it can also help prevent cognitive decline?
That's right, exercise isn't just for your heart and lungs—it's also good for your brain. Regular exercise boosts your brain's production of new neurons, increases blood flow to your brain, and helps prevent degenerative brain disorders such as Alzheimer's disease and Parkinson's.
Exercising regularly also decreases your risk of developing other age-related health conditions such as type II diabetes, heart disease, and certain types of cancers.
3. Get Enough Sleep
Getting enough sleep isn't just good for your health—it's also good for your brain. Snoozing between six and eight hours every night is crucial for keeping your brain fit and healthy.
As you age, your body produces less and less of the hormone melatonin. This is a neurotransmitter that induces sleep. Getting enough melatonin at night is important for maintaining optimal brain function. If you don't have enough of it as you age, your brain will start to deteriorate.
When you're struggling to get enough sleep at night, try these tips;
Stick to a sleeping schedule
Avoid eating, exercising, or digital screens 2 hours before bedtime
Keep your room dark at night
Get enough physical activity during the day
If you are still struggling to sleep, stop by and talk to the experts at Palm Harbor Pharmacy and see if Melatonin supplements can help you get a better night's sleep.
4. Use Technology to Help Train Your Brain
With every passing decade, technology becomes increasingly integrated into our daily lives. Technology can help you shop for groceries, buy tickets for events and even exercise your brain.
Brain training apps and software can be a great way to stay mentally fit and improve your cognitive abilities. Look for apps that focus on memory, spacial, or problem-solving skills and devote a few minutes each day to them.
Not sure where to start? Look for the following in your phone's app store. These apps are popular and highly ranked:
Lumosity
CogniFit Brain Fitness
Personal Zen
Brain Trainer Special
5. Healthy Supplements for Your Brain
A healthy diet is crucial for maintaining optimal brain health and preventing cognitive decline. But the truth is that it's nearly impossible to maintain healthy levels of all the nutrients your brain needs to thrive through diet alone. Dietary supplements can help bridge the gap and give your brain the vital herbs, nutrients, and compounds it needs to operate at peak efficiency.
Supplements aren't a magic cure-all. They won't help you if you don't do anything else to support your brain health, but supplements are an important component of a brain-healthy lifestyle.
If you're looking for supplements to help boost your brain health, try:
Acetyl-L-Carnitine – this amino acid supports your brain's production of energy and easy removal of toxins.
B Vitamins- vitamins B6, B12, and folic acid all play an important role in brain health.
Bacopa Monnieri – this herb helps to improve memory and mood.
Curcumin – this potent antioxidant comes from the Indian spice turmeric and helps fight off free radicals.
Ginger – this spice has been used as a natural remedy for thousands of years and is often used to treat nausea and stomach issues.
L-Theanine – this amino acid is found in green tea and is helpful for both anxiety and depression.
Magnesium – this naturally occurring mineral helps to regulate your body's natural sleep and stress hormones.
Omega-3s – naturally found in some types of fish, these fatty acids have been linked with lower risks of dementia.
Vinpocetine – this supplement is derived from the periwinkle plant and is used to improve cognition and mental performance.
As you can see, several brain health supplements can support your brain health. Rather than buying dozens of individual supplements, look for a multivitamin designed to improve brain health, such as Prevagen. Prevagen is a once-daily dietary supplement that is clinically shown to safely and effectively improve memory.
Find Prevagen at Palm Harbor Pharmacy as well as a wide selection of other supplements available to keep your brain healthy and sharp.