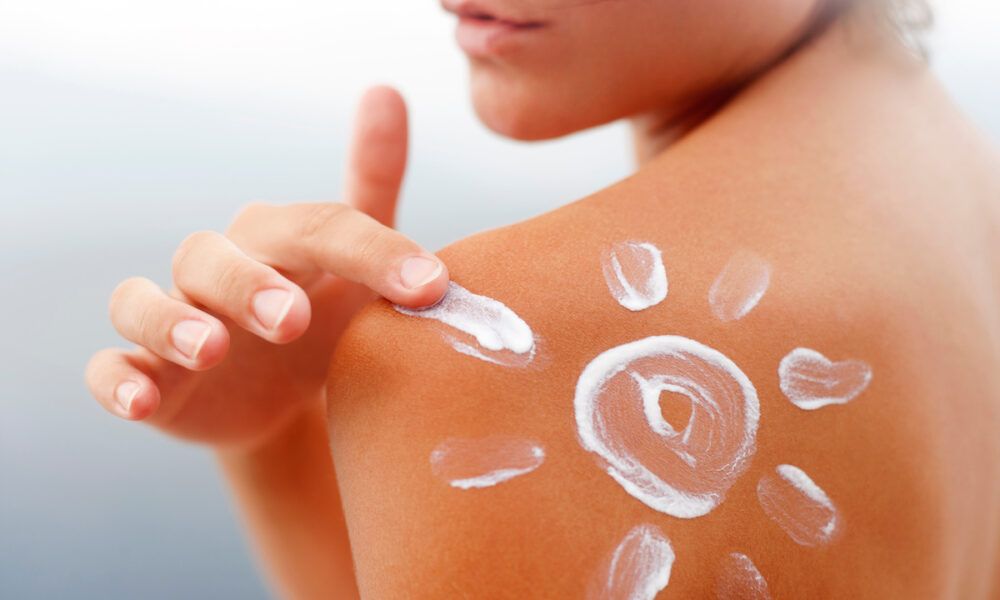 Did you know the leading cause of skin cancer is excessive exposure to UV rays? Spending time in the sun is beneficial for our physical and mental health, but we all need to remember a few important summer skincare tips to prevent sunburn as well as skin cancer. In this blog, we'll go over what you need to know about sunburns, sunburn prevention, and skin cancer signs.
How the Sun is Good for Your Skin
It's true that the sun can cause trouble for your skin, however, the sun is beneficial to our health as well. It's all about finding a healthy balance. We all know that prolonged exposure to UV rays can harm us, but how is the sun good for your health?
The sun is an excellent source of vitamin D, antioxidants, and essential nutrients for your skin. Vitamin D is also essential for bone health. The key to getting the health benefits from the sun is minimal exposure, and taking steps to protect your skin from the sun's harmful rays.
One of the most important steps to summer skincare is preventing sunburn. However, not all sunburns are the same. Let's discuss the different types of sunburn and what they mean.
What are the Stages of Sunburn?
Did you know that there are different degrees of sunburn severity? While there is no safe sunburn, some burns are worse than others.
There are two different degrees of sunburn that you may experience:
-First-degree sunburn: A first-degree sunburn is a common, mild sunburn that is characterized by redness and peeling, but no blisters. You may experience a first-degree sunburn if you spend an hour or two outside gardening or doing other activities.
-Second-degree sunburn: A second-degree sunburn is often more painful than a first-degree sunburn. This type of sunburn will result in blistering and may damage deep layers and nerves within the skin.
Sometimes serious sunburns can result in sun poisoning. You may be experiencing sun poisoning if you notice the following symptoms:
Skin redness and blistering.
Pain and tingling.
Swelling.
Headache.
Fever and chills.
Nausea.
Dizziness.
Dehydration.
These symptoms generally last 2 to 3 days, but it's possible for them to carry on for weeks. If you believe that you have sun poisoning, please contact your family doctor.
Now that you understand the degrees of sunburn and the seriousness of sun poisoning, let's talk about some preventative summer skincare tips.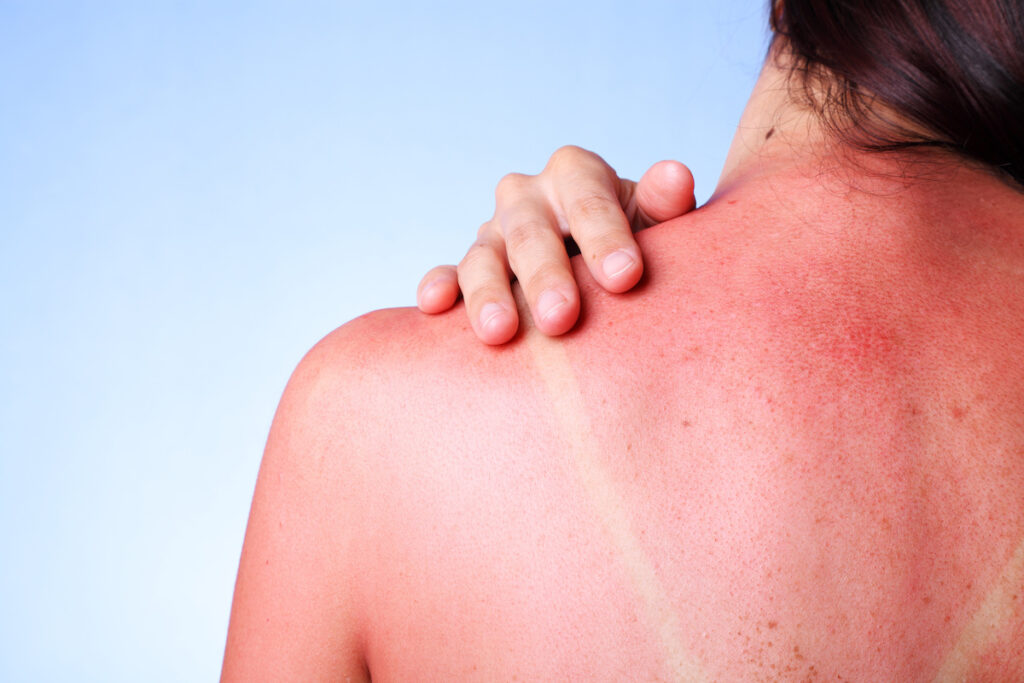 Wear sunscreen
While you don't have to wear sunscreen every time you step outside to check the mail, it's a good idea to wear it when you plan to spend dedicated time outdoors.
Did you know that it only takes about 11 minutes for the signs of a sunburn to appear? Keep in mind that people with fair skin, blonde or red hair, as well as blue or green eyes, tend to burn faster. However, adults and children with all skin types benefit from wearing sunscreen.
When you're outside during the day, you're putting yourself at a far greater risk of sunburn because you're spending more time in the sun. Wear sunscreen with a dedicated UV protection factor (UVPF) of 50 or higher.
There are many choices for sunscreen available at your local drugstore, including Palm Harbor Pharmacy. Check out this list by Good Housekeeping with 22 of the best sunscreens to consider.
Wear wide-brimmed hats
Even when you are wearing sunscreen, there are additional ways to protect yourself from sunburn. One easy way is by wearing wide-brimmed hats. Wearing a hat keeps your face, shoulders, and part of your chest in the shade. If you are spending time outdoors where there is no shade from the sun, wear a wide-brimmed hat.
Don't Forget to Protect Your Eyes
While skincare is important for preventing sunburns, you don't want to forget about protecting your eyes. Prolonged UV exposure can damage your retinas and even your eyelids can get sunburned. You'll want to take the proper steps to protect your eyes as well.
You can protect your eyes from the sun by doing the following:
Apply sunscreen to your eyelids
Wear sunglasses
Wear a wide-brimmed hat
Never look directly at the sun
Try to spend time in the shade to give your eyes a break from the bright light. Sunlight damages your eyes and can cause problems such as snow blindness, where you'll experience eye pain, seeing halos, eyelid twitching, and pain from bright lights.
Summer Skincare: How to Treat a Sunburn
Sunburn happens to nearly all of us. Maybe you forgot to reapply your sunscreen or maybe you weren't expecting to be out in the sun all day. Whatever the reason, you ended your day with bright red painful skin. So now what?
It can take several days for your skin to heal and there isn't much you can do to speed up that process. But there are ways to bring you some relief in the meantime:
Cooldown: Apply a cool compress to the affected area, take a cool shower, or soak in a tub of cool water and baking soda. Avoid using water that is too cold and stay away from hot water for a while as it can aggravate the burn and cause more damage.
Take OTC pain relievers: Acetaminophen and ibuprofen can both help to relieve pain and reduce inflammation.
Moisturize: Look for a moisturizer that contains aloe vera or soy to soothe burnt skin. For particularly painful burns an OTC hydrocortisone cream can help but avoid any creams that end with "-caine" (such as benzocaine) as they can irritate your damaged skin further.
Stay hydrated: Sunburned skin draws moisture out of your body to help the healing process. Drink lots of water to prevent dehydration.
Don't pop blisters: If you suffer from second-degree sunburn you may develop blistering. Leave the blisters intact so they can protect you from infection.
While most sunburns can be treated at home, if you experience a severe blistering sunburn over a large portion of your body or if your sunburn is accompanied by headache, confusion, nausea, or chills, you should consult your family doctor right away.
What are the Signs of Skin Cancer?
Skin cancer can appear nearly anywhere on your body, but the most common areas are the ones that are exposed to the sun most often, such as your arms, nose, neck, and face. You can get skin cancer no matter if you have dark or light skin.
The skin cancer signs that you experience depend on the type of cancer itself. For example, basal cell carcinoma skin cancer can appear as a pearly/waxy bump, a flesh-colored or brown lesion, or a bleeding and scabbing sore. The scab may heal and then return again.
Melanoma is not a common type of skin cancer, accounting for only 1% of skin cancer cases. However, this type of cancer accounts for the majority of skin cancer deaths.
If you have melanoma, you may discover a large spot that appears brown with dark Speckles. You may also have a mole that changes color, size, or texture or a painful lesion that itches and burns.
Skin cancer is a very serious condition. About 5.4 million people are diagnosed with skin cancer in the US each year. Over 96,000 of those cases are diagnosed with melanoma, which is the most dangerous type of skin cancer.
If you believe that you have skin cancer, the first step should include contacting a dermatologist. The dermatologist can take a closer look at your skin and determine if the signs and symptoms that you are experiencing are from cancer.
How do You Prevent Skin Cancer?
While skin cancer is the most commonly diagnosed type of cancer, the good news is that it is also the most preventable. The ways that you prevent skin cancer are essentially the same as preventing sunburns. After all, skin cancer is typically caused by exposure to UV rays.
To prevent skin cancer, be sure to heed the following advice:
Do not spend a lot of time in direct sunlight, especially during the day hours
Try to plan outdoor events where you spend the majority of time in the shade
Wear clothing that protects your arms and legs from the Sun
A wide brim sun hat can help shade your face, as well as your neck, ears, and head
Always keep your sunglasses on while outside. Consider investing in sunglasses that wrap around your head, while blocking both UVA and UVB rays.
Cover your body, especially exposed extremities, and apply sunscreen while spending time outside. You can also wear lip balm that also has some protection with an SPF of 30 or higher.
Examine your skin once per month for signs of skin cancer
Early detection is ideal for protecting yourself against cancer. If you notice any type of unusual change in your skin, contact your family doctor or dermatologist.
Summer Skincare: Prevent Sunburns with Palm Harbor Pharmacy
Any time you are concerned about changes in your skin, you should consult a dermatologist or your family doctor. You can never be too cautious with your health.
If you are ready to enjoy the sun safely this summer, stop into Palm Harbor Pharmacy. We have a wide variety of sunscreen options to prevent sunburn as well as products to help relieve sunburns. Not sure what to get? Our experienced staff can answer all of your questions about summer skincare and help you make an informed choice.