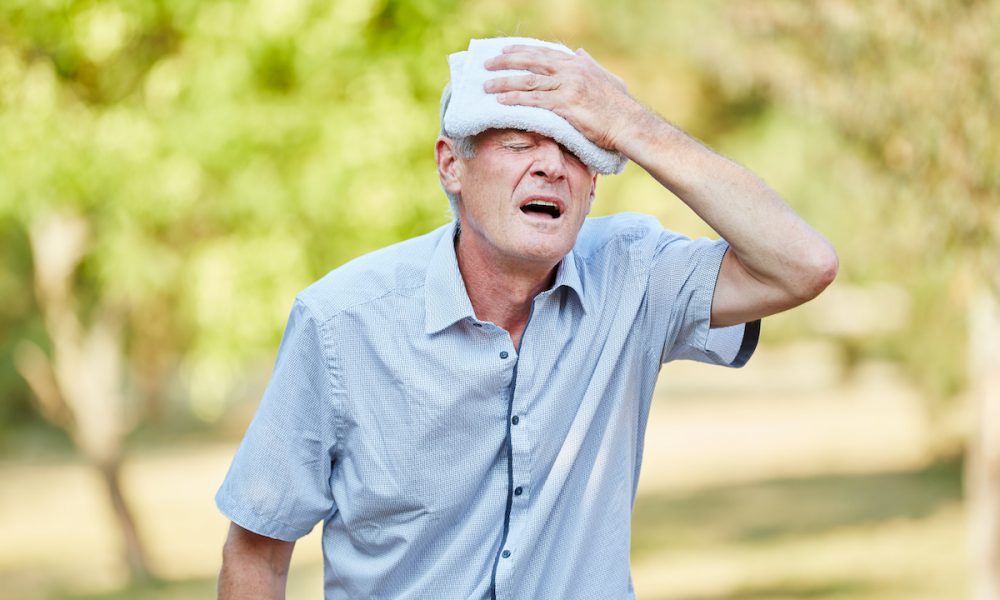 It's no secret that summer is hot, but the season is certainly sizzling in the state of Florida. Even for those who live in Florida year-round heat illness and sunburns are still cause for concern.
While heat index temperatures hover and often surpass 100 degrees Fahrenheit this time of year, this guide can help you and your loved ones stay safe from heat illness and sunburns.
What is Heat Stress?
Heat stress occurs when the body cannot handle high temperatures or get rid of the excess heat produced in the core. All ages are susceptible to heat stress, but those with the highest risk are people over 65, have heart disease, are overweight, or take medications that make exposure to heat potentially dangerous.
What Types of Heat Illnesses Can I Get?
Heat stress is a blanket statement for a series of illnesses that can affect anyone. Many of the illnesses have similar symptoms and most can be treated with first aid, but some require immediate medical attention.
This is a list of heat illnesses that you can experience:
Heat rash: This is a skin irritation that is caused by sweat not evaporating away from the skin. It's a common problem in work environments, especially during the summer heat.
Heat cramps: Many don't connect muscle cramps with heat, but this is caused by dehydration. The cramps typically occur during outdoor work, but they can occur before or after the physical activity is completed.
Heat exhaustion: This is when the body responds to a lack of fluid while being exposed to heat for a long period of time.
Rhabdomyolysis: This is a medical condition that is associated with prolonged physical activity combined with heat stress, resulting in the breakdown and even death of muscle tissue.
Heat syncope: This is a fainting or dizziness episode that follows after a long period of standing or going into a sudden sitting or standing position.
Heatstroke: This is the most serious and dangerous form of heat illness. Body temperature may rise to 106 degrees F within 10 to 15 minutes, causing potential death or disability if not treated quickly.
Symptoms of Heat Illnesses:
The symptoms of heat illness vary depending on the type. All symptoms should be taken seriously, especially for those most susceptible to the illnesses.
Heat rash symptoms: Red clusters on the skin that look like small blisters. The rash normally appears in areas such as the chest, groin, neck, and elbow creases.
Heat cramp symptoms: You will experience muscle spasms and cramps in the arms, legs, and stomach area.
Heat exhaustion symptoms: Heavy sweating, cold and clammy skin, fast pulse, dizziness, nausea, and vomiting.
Rhabdomyolysis symptoms: Dark and cola-colored urine, weakness, exercise intolerance.
Heat syncope symptoms: dizziness, light-headedness, fainting.
Heatstroke symptoms: Confusion, slurred speech, hot skin, severe sweating, seizures, loss of consciousness
First Aid: What to do if You Experience Heat Illness
If you or someone you love experiences a form of heat illness, time is of the essence. Waiting for symptoms to resolve on their own can be deadly in some circumstances.
During times of heatstroke or losing consciousness, call 911. This person needs immediate medical attention to save their life.
Stopping any physical activity that is contributing to the symptoms is also a priority. Take a drink of cold water or a sports drink, making sure that you sip slowly.
With heat cramps, you should also have a snack. If you have heart problems, you will need to receive medical attention.
When you discover a heat rash, be sure to keep it dry. You may use powder for comfort, but refrain but using ointments and creams.
What Medications can Make Heat Illness Worse?
We mentioned earlier that certain medications can contribute to heat illness and suburn symptoms. They can make you more intolerant to heat and exposure to sunlight.
These medications include but are not limited to:
Tretinoin: A drug used for treating acne and aging skin
Promethazine and Diphenhydramine: Used to treat allergies
Naproxen & Piroxicam: Prescribed for arthritis
Pseudoephedrine: Used to treat congestion
Timolol, Chlorothiazide, Hydrochlorothiazide: Prescribed for heart disease, hypertension, and heart failure
Atropine: Used for nausea
Taking preventative action while taking these medications can help keep heat illness at bay. Those actions include:
Avoid spending time in direct sunlight, especially during the mid-day sun
Wear solar-protective clothing, especially if you intend to work or exercise outdoors
Consider avoiding physical exertion entirely if you are concerned or suspective of experiencing heat illness
Use sunscreen and sunglasses

Ouch! How to Handle Sunburns
Here in Florida, it's not uncommon to get a sunburn by hanging your arm out the car window while you drive.
While sunburns are considered a heat illness, they can make you miserable and progress to complications such as sun poisoning.
Sunburns come in several degrees depending on severity. They come in the following levels:
First-degree sunburn: Red skin with mild pain, affecting the outer layer of the skin. They are typically mild and treatable at home
Second-degree sunburn: The skin is red, painful, and can swell up with blisters. This type of burn can take longer to heal
Third-degree sunburn: These sunburns are difficult to get, but the skin will turn white or dull. It will require surgery to remove the skin
Acute sunburn: Tender skin that's bright red, painful, and usually will come with mild edema
Solar Keratosis: This results in dry, rough, scaly lesions on exposed skin. It can appear yellow with a hint of gray
Symptoms of Sun Poisoning:
Sun poisoning is also a form of severe sunburn that results in physical illness. The symptoms appear within 6 to 12 hours of exposure to the sun. Symptoms can include:
Development of a sun rash, which can be hereditary. This is different from a heat rash as this spreads over the entire body, coming in bumps that look like hives. A sun rash due to sun poisoning requires medical attention.
Otherwise, common symptoms of sun poisoning include blistering and peeling skin, severe pain with redness, fever, confusion, nausea and vomiting, headaches, fainting, and dizziness.
Who is at Risk for Sun Poisoning?
Just like heat stress, sun poisoning can affect nearly anyone. However, there are people who are more suspective than others.
Those with increased risk typically fall under the following criteria:
Fair skin with blonde or red hair
Those who have skin cancer in the family
Those taking antibiotics and contraceptives
Using herbal supplements
Frequently visit the beach
Keep in mind that sun poisoning is a very serious form of sunburn. Leaving it untreated can result in several complications.
For example, sun poisoning can leave you feeling extremely dehydrated. This is why it's important to drink water and electrolytes after spending time in the sun.
The skin may also become infected from the blisters. Any bleeding or oozing should be seen by a doctor, as it can indicate a more serious infection.
Meanwhile, know that it takes considerably longer for sun poisoning to heal. A mild sunburn should clear up within a week. However, sun poisoning can take several weeks to clear up. Scarring is also possible if the dying skin is picked at.
Important Tips for Staying Cool and Safe this Summer
Now that you know the consequences of prolonged sun exposure, it's time to discuss several ways to keep yourself cool and safe in the heat. These are general practice tips that we sometimes forget while we're out having fun in the sun.
Overall, prevention is the very best way to prevent any type of heat illness or sunburn.
Stay out of the sun during peak hours between 10 am and 2 pm
Spend as much time as possible in the shade
If you choose to exercise outdoors, do so in the early morning
Wear clothing intended for ultraviolet protection
Use sunglasses with UV protection
A wide-brimmed hat can also help keep sunburns at bay
Sunscreens should be at an SPF of 30 or higher
Choose sunscreens that are water-resistant, lasting 40-80 minutes before a second application is needed
If you aren't in the water, reapply the sunscreen every 2 hours
Adults should use 1 oz of skin per exposed area, which is about equal to a shot glass
Don't use expired sunscreen, as it won't be as effective at protecting your skin
Take frequent water breaks in the shade if you are working outdoors
Drink plenty of water or sports drinks with electrolytes
Be mindful of your current medications and if they cause heat or sun intolerance
Consult Your Pharmacist on Heat Illness & Sunburn Protection
If in doubt, you can always consult us at Palm Habor Pharmacy for advice on preventing heat illness and sunburns. Please be aware of the labels of your medication, looking for warnings that the medication causes heat or sunlight intolerance. Contact us or stop by the pharmacy today with questions.